Description
Main Features
50mm lens – wide angle

8-24x variable magnification

1″ /25mm tube

Etched Glass Red-Green-Black illuminated half mil dot

Parallax focus adjust from 10 yards/9.1m

Mount rings NOT included. See related items at bottom of page for suggestions.
Wide Angle lens with huge field of view – approx. 20% more than standard 1″ (25.4mm) tube scope
The added field of view gives you a larger sight picture and also helps in visually steadying the picture at higher magnifications
1-inch hard anodized one-piece aircraft grade aluminum main body tube
Fully Multi Coated lens – Each individual glass lens surface is fully multi coated with Nikko's new proprietary Low Dispersion ETE Microlux Gen 2 coating and polished to allow the maximum amount of transmitted ambient light into the main tube.
Rated for airgun, rimfire and centerfire use – dual sealed and capable of handling the heaviest-recoiling magnum rifles
>>> Etched glass Half Mil dot reticle making precise hold-over and wind correction adjustments easy and effective
>>> AO parallax 9m/10 yards to infinity
Waterproof – Shockproof – Fogproof

Nitrogen filled and sealed tube

Bikini lens caps included.
Etched glass Half Mil Reticle with red–green Iluminated Reticle
Glass etched for total recoil immunity and zero internal light reflection when illumination is in use.
Half mil dot is basically mil dot x2 – half mils dashes are marked as well so giving you greater precision than ever before.
Many more aim and calculation points than standard mil dot – or as Nikko write it "making precise hold-over and wind correction adjustments easy and effective"
Note – Picture below exaggerates the mil sizes on the left just to contrast – main mils are the dots. Half mils are the lines.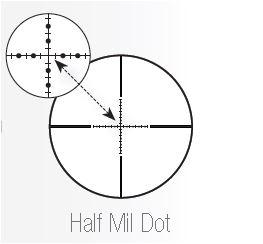 Red and green IR